Pamela Anderson: Vegetarian diet & Cellulite. Celebrity diet, Exercises, Style, Surgery & Beauty!
Weight:

127 lbs

(58 kg)


Height: 5 ft 6 in (1,68 meters)

Age:

55 years old

(1967/01/07)
Place of birth: Ladysmith, Canada.
Pamela Anderson
, actress and celebrity. She became famous in the serie
Baywatch
.. She's the most famous Hollywood blonde actress. Discover her
vegetarian diet
and her beauty tips to remove cellulite: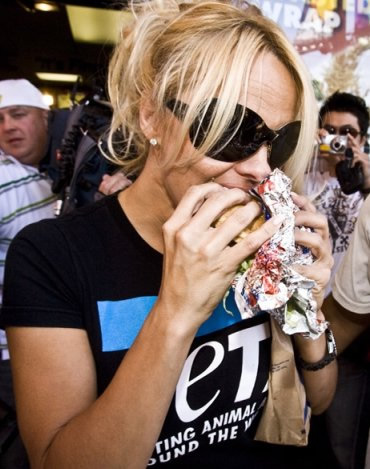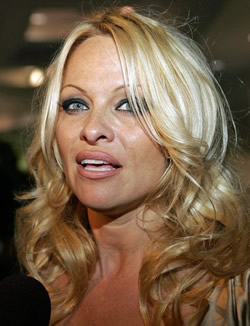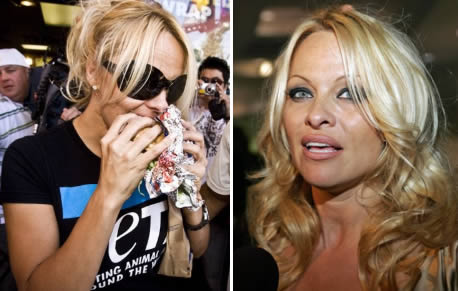 Celebrity diet for Weight Loss: Pamela Anderson
Pamela Anderson
reveals us that she follows a strict
vegetarian diet
since her teenage years and drinks a lot of water. That's her secret to have a healthy bodyweight!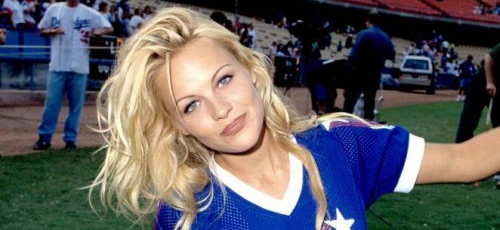 Celebrity diet: Pamela Anderson's Vegetarian diet
Her secret to have an athletic body?
The actress
Pamela Anderson
follows a
strict vegetarian diet
. Weight loss: up to
4 lbs
in one week.
The Pamela Anderson's
vegetarian strict diet
excludes the following foods: red meat, chicken, pork, fish and seafood.
Pamela Anderson
became a vegetarian in her early teens, after walking into a shed in her backyard and seeing her father cut the head off a deer he had just hunted and killed.
Pamela Anderson
is a PETA member and ardent supporter of animal rights since high school.

The secret tips of Pamela Anderson to follow her vegetarian diet:
She chews sugar-free gum while she's cooking for friends to stop her picking at the ingredients.
Example of vegetarian diet menu:
Lettuce salad with tofu + steam vegetables + cheese + fruit.

Should I follow the strict vegetarian diet or not? According to our experts: "The vegetarian diet is recommended for people that want to lose weight quickly and without starving. The first 15 days are a little difficult because it's a period of detoxification to the meat. It's used to be a decompensate diet due to the lack of proteins. Before starting a diet, please consult your doctor or nutritionist.".
Pamela Anderson
has a silhouette with the ideal weight, and a style we love: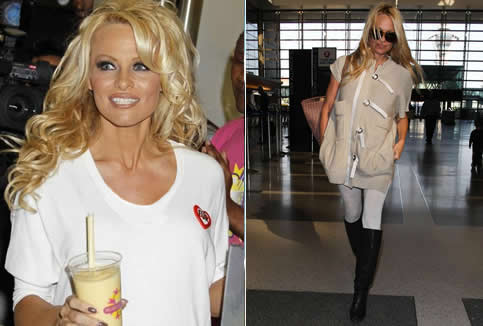 Celebrity exercises: Pamela Anderson's exercises for cellulite. How to remove cellulite!
Pamela Anderson
is fan of the gym. She practices exercises by running after her kids. She also uses the services of a personal trainer (4 times a week). She works for fortifying essentially
thighs
and
legs
. She uses steps machine for 45-60 minutes to shape her figure and to remove
cellulite
. She's also a great fan of
elliptical machine
and
running
. The actress loves
outdoor sports
, especially on the beach and in the water. She never forget to training, even travelling!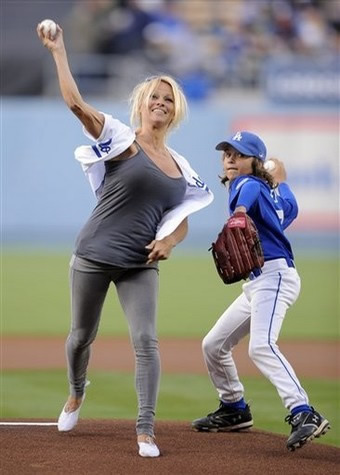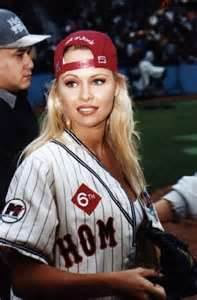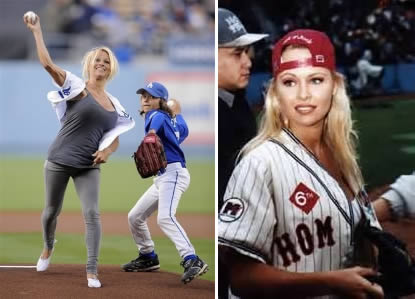 Celebrity beauty secrets: Pam's Tips to Feel Good!
The actress
Pamela Anderson
makes you discover her
best beauty secret
to
feel secure
and how to take advantage of your
style
, by Pamela Anderson.
1-
Pamela Anderson
, the super diva, says that style begins with
clothing.
If you wear clothing you like and in good condition, you will feel better.
2- Look at you in the mirror with clothing and shoes as the Victoria Secret models. Your silhouette with high heels looks more streamlined. Feel the pretty you are, and save that feeling with you throughout the day. The beauty is natural in women.

3- Before going to bed, use a moisturizing cream that you like it much. The hydration of your skin increases when you feel comfortable.
4- Maintain an impeccable personal hygiene. Have always a fresh breath in order not to be afraid to speak. Maintain hands and nails feet arranged for an impeccable image.

5- Red lips. When nothing works, use a labial in red colour or in another strong colour to show off the diva who is inside of you.

6- A good posture: It's esential to feel secure.

7- Modern clothing is not tight clothing, to be pretty don't show more than necessary. Use shoes that enhance your figure.

8- Smile a lot. Nothing is more beautiful and contagious than a smile.


Celebrity Style: Pamela Anderson's Style
The style advice of Pamela Anderson:
"Fashion, as well as life, is a game of seduction. You have to feel secure".
At the editorial we love the Pamela Anderson's style: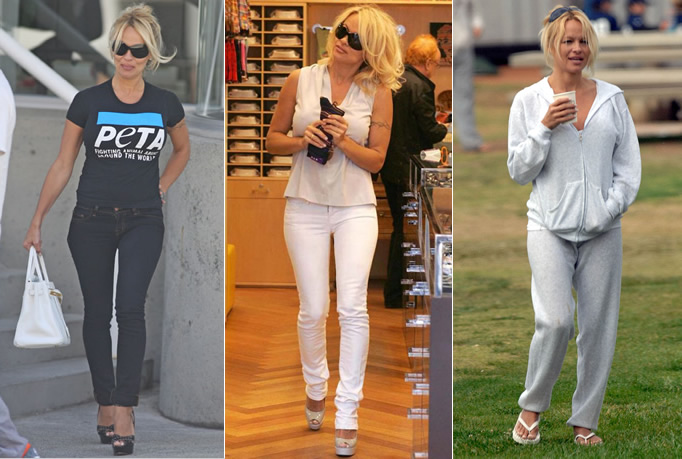 In photos, Pamela Anderson wearing shorts, a shouldered gray t-shirt, a beanie, and pink pumps by
Vivienne Westwood
. Pamela Anderson photo in the exhibition
Art Basel
of Miami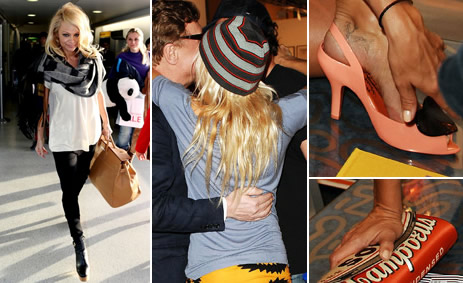 Pamela Anderson
on the catwalk in Paris for her favourite designer:
Vivienne Westwood
.
Pamela Anderson announces the spring/winter 2009 collection of Vivienne Westwood.


Celebrity Surgery: Pamela Anderson and Surgery
Pamela Anderson
went several times through the operating room to have cosmetic surgery. Look at the change in her face. The actress wanted these operations for pleasing her boyfriends, and feel more secure and pretty.
Before cosmetic surgery... After cosmetic surgery...
Pamela Anderson
and
Amanda Lepore
are 2 plastic surgery victims. Neither has any of their original body parts. Both have collagen filled lips, rhinoplasty, and even similarly taut facial skin to prevent signs of aging from showing.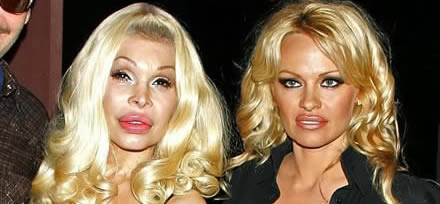 Celebrity without Make-up: Pamela Anderson
Pamela Anderson without makeup
. On the street she is a normal... girl. On the red carpet, with a good make-up and well brushed, she looks an authentic Hollywood diva: