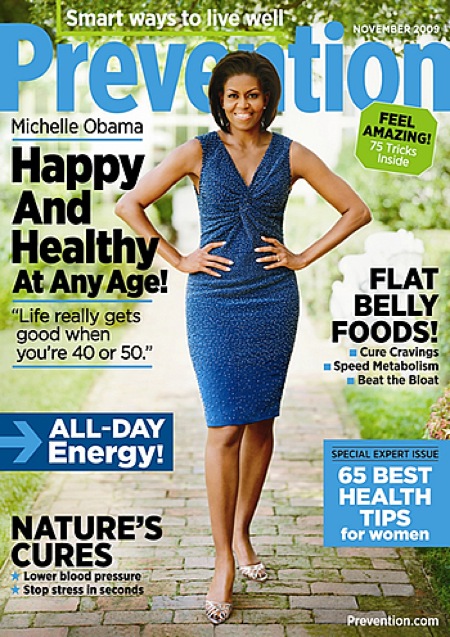 Discover the America's First Lady, Michelle Obama's lifestyle and secret diet for weight loss. When talking about diet and exercise, a lot was to be said about eating a well-balanced and natural diet and getting in daily exercise in order to be strong and energized when having such a busy schedule. A year ago, while still on the campaign trail, Mrs. Obama said the family made the decision to eat well on the road. She said,
"When we first started running, my big concern was making sure we ate well on the road. So we started looking at our diet, trying to eliminate junk, getting seasonal fruits and vegetables that were grown locally. We walked the kids through reading labels. We talked about why one juice might be better than another."
Because of this change there were a lot of foods that the family had to give up which was a change for the better for everyone in the family. Michelle Obama explained,
"Things with artificial ingredients. That's a tough change for a lot of families, though, because so many foods aren't real anymore. But lots of people don't have access to a farmers' market, or can't afford to shop at one, so this is a bigger issue. It's really big, because changing your diet makes such a difference. I've seen it in my own family. We have more energy. And I caught only one cold during the last year of the campaign, even after shaking millions of hands!"
Michelle Obama talked about workout and exercises in the White House:
"Yes. There's a small gym here that has everything we need. I work out about four or five days a week—and Barack does six. He's a workout zealot…. I do treadmill, I do weights—I also do some jump rope, some kickboxing—and I'd like to take up Pilates, if I could figure out whether there's time. After I had Malia, I began to prioritize exercise because I realized that my happiness is tied to how I feel about myself. I want my girls to see a mother who takes care of herself, even if that means I have to get up at 4:30 so I can do a workout."
When asked why she wakes up so incredibly early in order to exercise, Michelle Obama had a very interesting response:
"Well, I just started thinking, if I had to get up to go to work, I'd get up and go to work. If I had to get up to take care of my kids, I'd get up to do that. But when it comes to yourself, then it's suddenly, "Oh, I can't get up at 4:30." So I had to change that. If I don't exercise, I won't feel good. I'll get depressed. Of course, it's easier to do it here, because I have much more support now. But I always think about women who don't have support. That's why work-family balance isn't just a policy conversation; it's about changing the expectations of who we have to be as women and parents."
The First Lady is true inspiration to us all.