Karl Lagerfeld: Spoonlight Diet for Weight Loss. Karl Lagerfeld's celebrity diet to lose 90 lbs !
Weight:

154 lbs

(70 kg)


Height: 5 ft 10 in (1,78 meters)

Age:

89 years old

(1933/09/10)
Place of birth: Hamburg, Germany.
Karl Lagerfeld
, fashion designer and art director of Chanel, lost
90 lbs
in a year to recover his credibility in the fashion industry. His secret: The
Spoonlight Diet
, better known under the name
Lagerfeld Diet
. Discover now this diet!
| | |
| --- | --- |
| Before the Spoonlight Diet... | After the Spoonlight Diet... |
Karl Lagerfeld: Celebrity diet for Weight Loss
How
Karl Lagerfeld
has lost 90 lbs in 13 months?
Karl Lagerfeld
reveals us his
strict diet
to lose weight and
reduce the waist
. Following the
Lagerfeld Diet
...
The Spoonlight Diet explained by Karl Lagerfeld
The secret of the Karl Lagerfeld Diet
: The Spoonlight Diet. Before starting a diet, please consult your doctor or nutritionist.
Weight loss:
90 lbs in 13 months, is what Karl Lagerfeld has thinned.
Caracteristics of the Lagerfeld diet:
The
Spoonlight diet
followed Karl Lagerfeld is a
low-calorie diet
(between 800 kcal and 1200 kcal per day) and requires a lot of will. The diet is low in fat and sugar, and includes essentially green
vegetables
and lacteal products to 0%,
nutritional supplements
(vitamins, diuretic plant cocktails, energy pills and
protein pills
to moderate the appetite and keep muscle mass).
Daily menu of the Lagerfled diet:



Breakfast:
2 proteins pills to keep energy until noon.
Lunch and dinner:
green vegetables almost at will, meat or equivalent strictly selected (no beef, lamb or pork), but fish, chicken, turkey and occasionally veal, rabbit and horse, and lacteal products to 0%.
Between hours:
Taking food supplements and 1 proteins powder.
Aditional tip:
Eat daily preferably at the same hour, avoid go to bed directly after dinner.
Be careful with the bad fat:
Meat prohibited
: beef, lamb and pork.
Authorized
: fish, poultry, veal, rabbit and horse.
The reason
: the fat contained in certain meat is directly stored by the body and increase the bad cholesterol.
Protein pills for the energy:
Protein pills help to keep energy until lunch, and are taken as a snack to hold during the day.

The reason
: protein is the main energy source.
Nutritional supplements cocktail:
Karl Lagerfeld
uses 6 nutritional supplements: satiety, appetite regulation, diuretic plants, multivitamins cocktail, energy and weight loss accelerator.
The reason
: help the metabolism for weight loss and avoid nutrients lacks and hunger.
Exercises during the diet (and not too much sport):
Walk for 30 minutes per day, swim and climbing stairs are enough to exercise the heart and metabolism.
The reason
: it's important to move to burn calories. There is no need to do too much sport because the amount of calories ingested are small in the Lagerfeld diet.
Should I follow the Spoonlight diet by Lagerfeld or not?
According to our experts: "
The Spoonlight diet by Lagarfeld has be done under regular medical supervision, something that only Karl Lagerfeld and other VIPs are able to do on a long term (it's very expensive), because the removing of certain foods rich in calories (starchy) can be a source of nutrients lacks.
"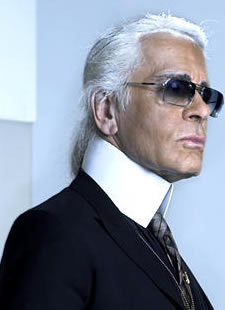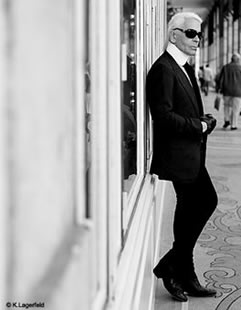 Celebrity Busted: Karl Lagerfeld without sunglasses!
Karl Lagerfeld
, busted without his dark sunglasses for the first time. Karl Lagerfeld has beautiful eyes: