Jennifer Aniston

: Yoga, The Zone diet & Detox diet. Celebrity diet, Exercises, Style & Beauty secrets!

Weight:

117 lbs

(53 kg)


Height: 5 ft 4.75 in (1,65 meters)

Age:

54 years old

(1969/02/11)
Place of birth: Sherman Oaks, USA.
Jennifer Aniston
is an actress, known for her interpretation of Rachel in series
Friend
s. Past the age of 40, Jennifer Aniston looks great, thanks to
yoga
and to her
diet
. During "
Friends
", she ate the same salad everyday during ten years. Now she's on a "
common sense diet
" with portion control, not processed foods and lot of lean protein, fruit and vegetables.
Jennifer Aniston
happy during the
Late Show with David Letterman: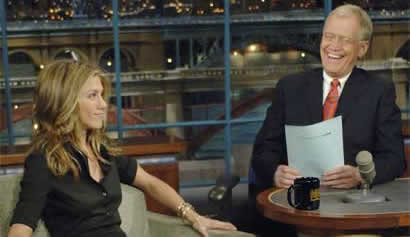 Celebrity diet for Weight Loss: Jennifer Aniston
The secret of Jennifer Aniston to have a so healthy body? She practices
yoga
for many years and she follows 2 diets:
the Zone diet
and the
Detox diet
.
Jennifer Aniston has a fabulous style. Her style is perfect for Hollywood: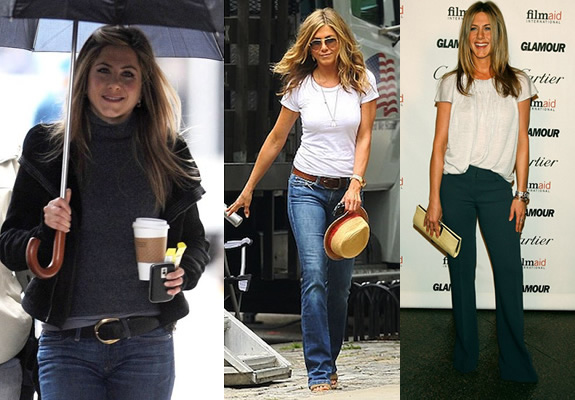 Jennifer Aniston: The Zone diet and Detox diet
Jennifer Aniston
follows
the zone diet
consisting of maintaining adequate insulin levels in order to achieve harmony between
body and mind
. To do this, the daily menu includes 3 meals and 2 snacks.
The zone diet
is a quiet similar to the Mediterranean diet, where the sugar, bread and pasta are reduced, and you eat abundant
fruits
and
vegetables
and meat without fat.
The zone diet
is the most fashion diet in Hollywood. Other celebrities also follow this diet: Cindy Crawford, Madonna or Brad Pitt.
Her favourite food:
"I love the salads. My favourite one is with grilled chicken and baby greens of the L.A. Restaurant's Sunset Tower", says the actress in
US Weekly
magazine.
During the series "
Friends
,"the actress ate salad each day during 10 years. "
I almost came to the point to hate the salad"
, says the actress.
In addition she confesses "
I can't resist me to eat few chips with salsa each night.
"
Should I follow the zone diet or not?
According to our experts: "
The zone diet is a healthy diet where it's not necessary to weight the food. The disadvantage: carbohydrates (bread, pasta) are less than 60% of the recommended calories. It can cause lacks of nutrients, for example it's the main source of energy for the brain (glucose) Before following this diet, please consult your doctor or nutritionist."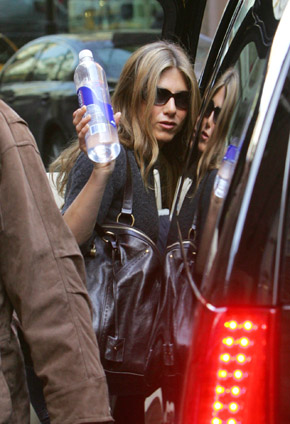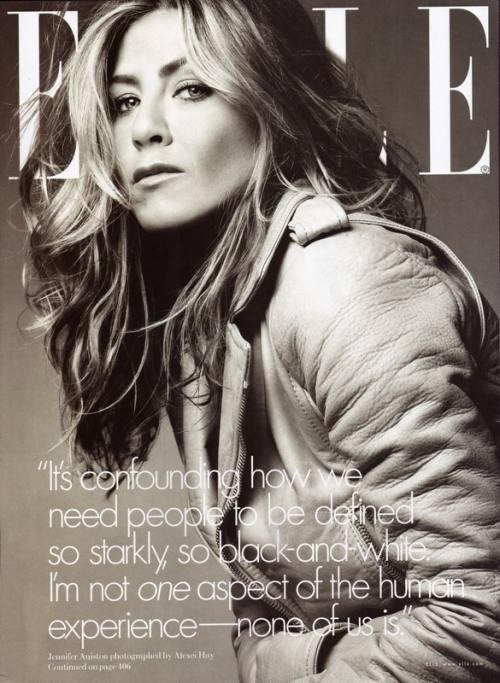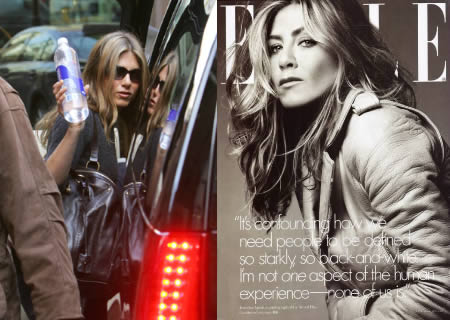 Celebrity diet: The Zone Diet by Jennifer Aniston
Weight loss:
1 lbs per week.
The Zone Diet creator
: Dr. Barry Spears.
The Zone Diet
rules are sacred:
• Do have 5 meals per day (2 of them lighter)
• Combine food (no need to weight): carbohydrates, proteins and fat (40/30/30)
• Remove from the diet: bread, pasta, rice, and potatoes (carbohydrates must come from fruits and vegetables)
• Don't let more than 5 hours without having a lunch or snack
• Drink a lot of water, 8 glasses of water per day.
Jennifer Aniston leaving Hollywood studios. She runs to her yoga class. She is toned, yet not too muscular, and as a result, can wear just about anything and it will drape beautifully over her body.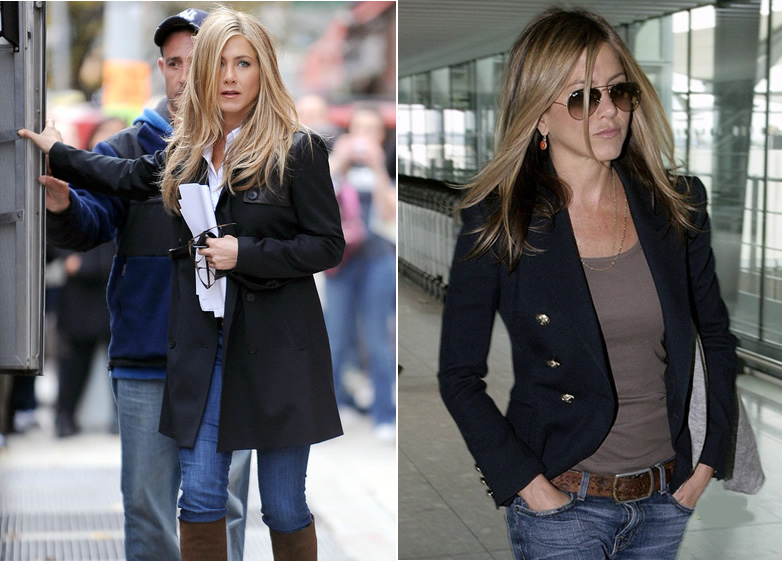 Celebrity exercises: Yoga & Jennifer Aniston
Jennifer Aniston
practices plenty of exercises. She practices Yoga Budokon 3 times a week during 2 hours (mixture of yoga and martial arts). She also does
Pilates
2 times a week. She
jogs
everyday at 6am and ends at home on the
elliptical machine
or treadmill for 20 minutes.
Jennifer Aniston
practices
Yoga Budokon
with her friend and former colleague
Courteney Cox
from
Friends
.
Jennifer Aniston
says that Yoga Budokon allows her to
"reaffirm, tone and refine the muscles of the body, especially those of legs, belly and shoulders. In addition it's very relaxing and helps me to develop my capacity of concentration."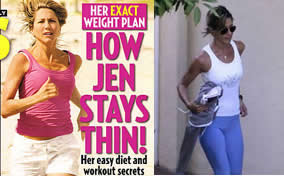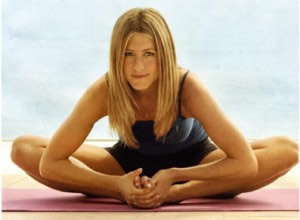 Celebrity exercise: Yoga Budokon for Celebrities
The personal trainer of
Jennifer Aniston
is called
Cameron Shayne
, the inventor of
Yoga Budokon
(warrior through spirit). In addition, he's taekwondo and karate black belt, and was the bodyguard of the actor
Sean Penn
.
Who can practice Budokon Yoga:
Celebrities of course, but also people tired of yoga or Pilates, who are looking for a more vigorous activity, relaxing and with energy power.
Where practice Yoga Budokon:
Jennifer Aniston practices Yoga Budokon in the
Equinox Fitness Club
in Los Angeles ($300 for one private session, $42 for one group session).
Development of the Budokon Yoga session:
• 15 students began with warm-up exercises from yoga postures
• After martial arts exercises, increasing the difficulty
• After 1 hour, everybody lay down the floor, under a "quiet" light and the teacher read Taoist philosophy.
The opinion of the celebrities personal trainer:
Yoga Budokon session must be practiced with an empty or almost empty stomach (no big lunch 3 hours before the session), don't drink during the session and listen to your sensations and respiration during the session... and also later during your life!
The additional tip of Jennifer Aniston personal coach:
In addition to the sessions, reduce the consumption of exciting products (coffee, alcohol, etc.) and promote the consumption of vegetables proteins.
In photo, Jennifer Aniston running to beefing up the legs: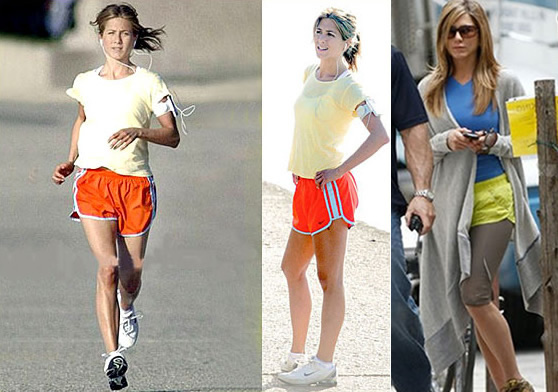 Celebrity beauty tips: Detox cure & Cellulite
Jennifer Aniston
makes you discover its
best beauty secret
to look always with a healthy and
radiant skin
and a
luminous face
, by Jennifer Aniston:
Her secret:
the
detox cure
. After having left smoking, caffeine and caloric drinks, Jennifer fights against the toxins of her body, eating as healthy as possible (no processed products) and drinking every morning 1 glass of
lemon juice
freshly squeezed (vitamin C). The actress confesses "
it's the best way to evacuate the waste and the fat
".
In addition, once a month,
Jennifer Aniston
goes to a spa to receive
cellulites treatments
, and drinks tea with herbs to reduce the volume of the stomach and burn the fat of the abs.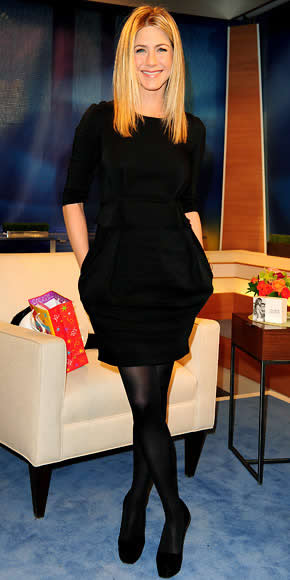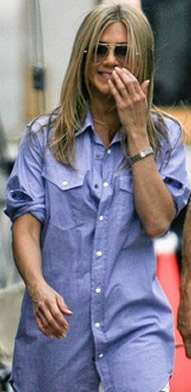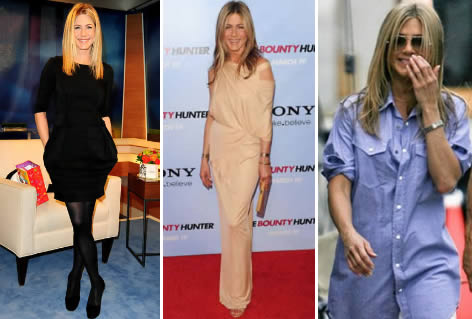 Celebrity Style: Jennifer Aniston's style: great!
Pretty, rich and famous...
Jennifer Aniston
is coming back with more style than ever. The mini-dresses to shine legs have become her safest style.
Black
color is her best friend:
Celebrity cosmetic surgery: Jennifer Aniston
Jennifer Aniston
is one of the best paid actresses in Hollywood. Last year she won over $ 30 million according to
Forbes
. In the right picture, she has refined the lips...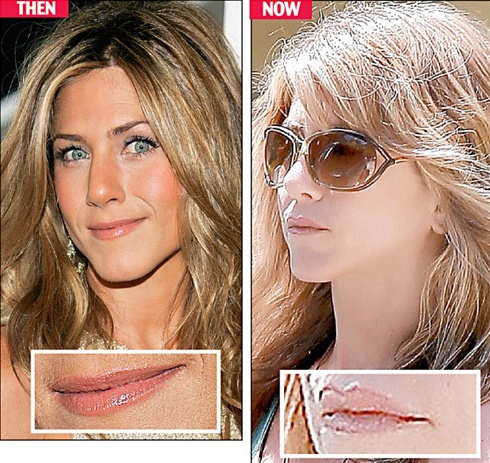 On the left, young
Jennifer Aniston
picture. The
nose
has been slightly retouched: