Madonna: Weight loss diet, Exercises, & Beauty tips
Madonna's diet are Macrobiotic Diet and Zone Diet.
Weight:

110 lbs

(50 kg)
Height: 5 ft 3.5 in (1,61 meters)

Age:

65 years old

(1958/08/16)
Place of birth: Bay City, Michigan, USA.
Madonna
, singer and producer, focuses her daily activities to dance, make exercise, practice yoga and follow a healthy diet. It became her philosophy of life. Discover now the
Madonna's diet
and her beauty tips to lose weight: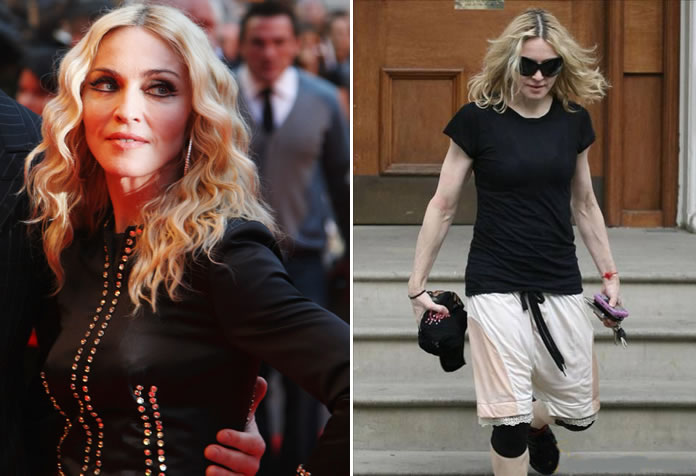 Madonna
makes a lot of sport to lose weight and be fit, may be too much...
She has muscular arms thanks to the long hours spent in the gym: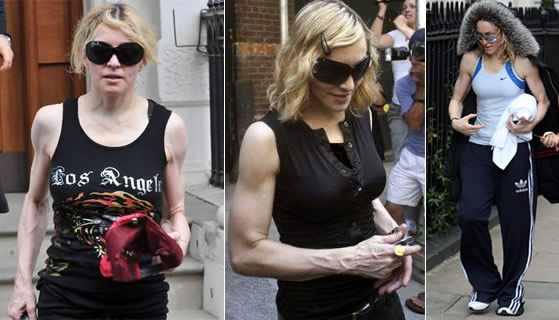 The Queen of pop looks much more healthy now than when she sang "
Like a Virgin
":
Celebrity diet: Madonna's diet for Weight Loss
Madonna
eats exclusively
organic food
from decades (mainly fruits and vegetables, wholemeal cereals, natural sugar and fish). Now she has found something else. Before starting a diet, please consult your doctor or nutritionist.
Madonna follows the
Zone diet
, based on the balance between carbohydrates, fat and proteins in a ratio of 40/30/30 in each of the 3 meals and 2 snacks which represent the Madonna's daily menu (the last meal before going to bed).
Madonna follows also the
Macrobiotic diet
that avoid milk, meat and sugar. The macrobiotic diet is a new philosophy of life based on the ancient practice of listening to the inner compass when you eat.
In addition, Madonna eats
flax seeds
in almost every hour. It's a food rich in Omega 3 and has slimming virtues.

Madonna
avoid eating out, she says "I don't use to go eating to restaurants - you never know what they serve you." She loves "
kosher
" recipes, supervised by rabbis to respect the Jewish laws. Madonna is a follower of
Kabbalah
- the actions in life have consequences beyond.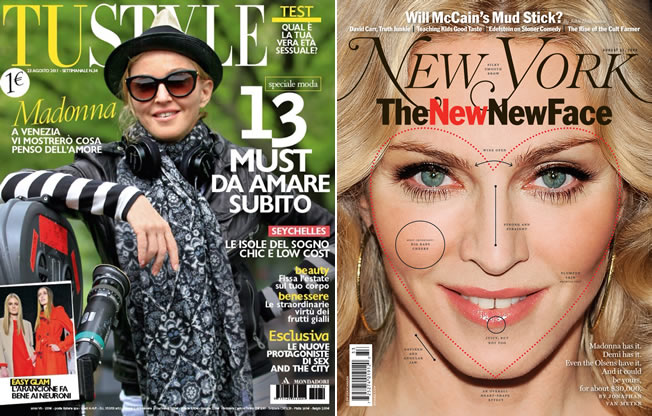 Celebrity exercises: Madonna Exercises & Work out
Madonna's exercises
include fitness for toning muscles, roller skating to strengthen the quadriceps and thighs, riding to escape and Ashtanga yoga to relax, improve flexibility and toning.
But Madonna also practices the latest American fashion exercise to get fit, the
Gyrotonic
(mix of dance, yoga, tai chi and swimming). In photo, Madonna practicing Ashtanga yoga with her friend Gwyneth Paltrow: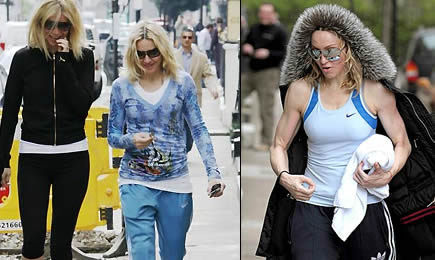 Madonna
has an index of fat much lower than desirable. Not surprisingly, Madonna is rumored to do 3 hours of exercise per day!
A source close to
Madonna
reveals that: "She just rests on Christmas day. Many times Madonna continues to make steps in the machine in her office when she's calling on telephone."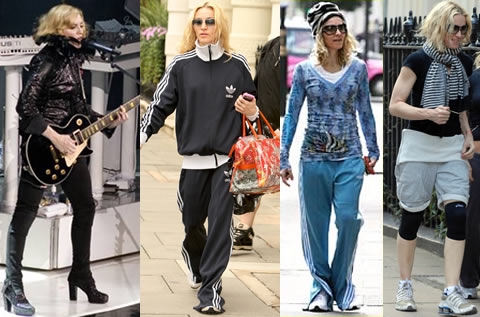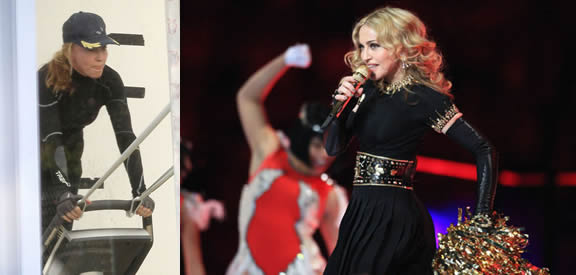 Celebrity diet: Madonna's diet plan for one day
Morning: Madonna exercises
Ashtanga Yoga in her private gym.
Breakfast: Madonna diet
&
exercises
Macrobiotic soup of vegetables (soup made only with organic vegetables)
Pilates exercises.
Lunch: Madonna diet
Japanese macrobiotic (Steamed Vegetables, tofu, seeds, lentils and beans).
Afternoon: Madonna exercises
She chooses a third exercise from the list below: karate, swimming, weight lifting, running, cycling or riding.
Dinner: Madonna diet
Steamed fish and organic vegetables.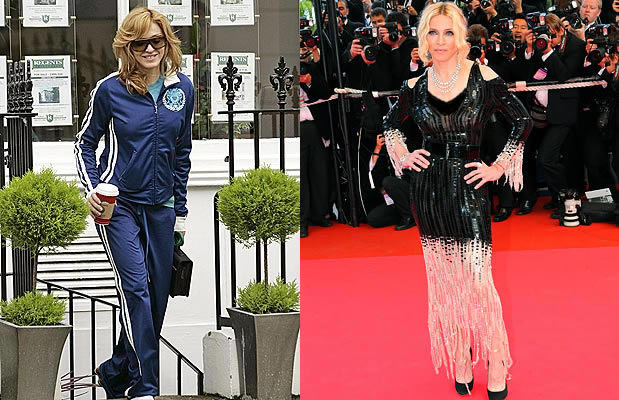 Celebrity beauty tips: Madonna's secrets anti-aging
Madonna
pampers her skin with
natural beauty products
such as those proposed by
Dr. Hauschka
, antioxidants treatments and oxygen therapy (she has a machine at home).
And furthermore, following the advice of her
anti-aging program
(the treatment price is $9,000, including revisions, she does it in the B&M in Los Angeles). She's allowed to sleep as much as her body asks.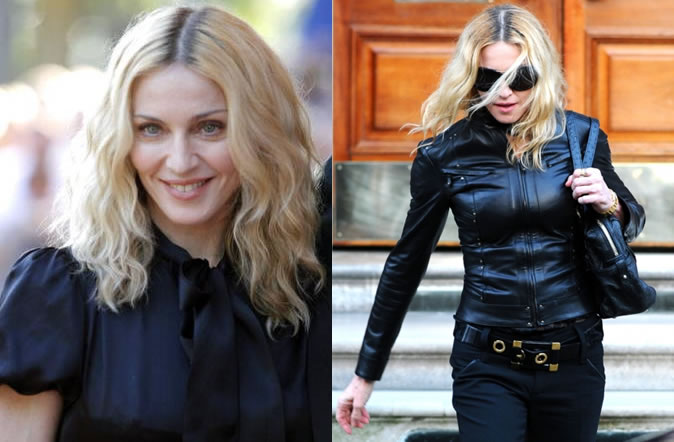 Celebrity busted: Madonna busted with Photoshop!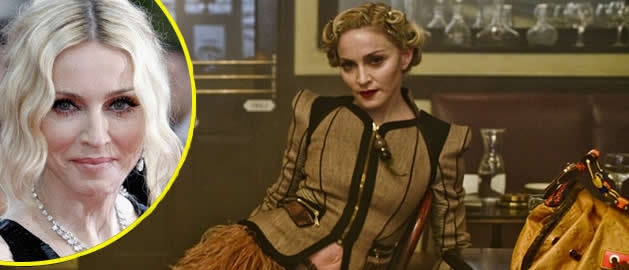 Madonna
is in great shape, but in the new
Louis Vuitton
campaign her
wrinkles have disappeared.
Thank you Photoshop!